| | | |
| --- | --- | --- |
| | Purim: March 9 – March 10, 2020 | |
| | |
| --- | --- |
| | MESSAGE |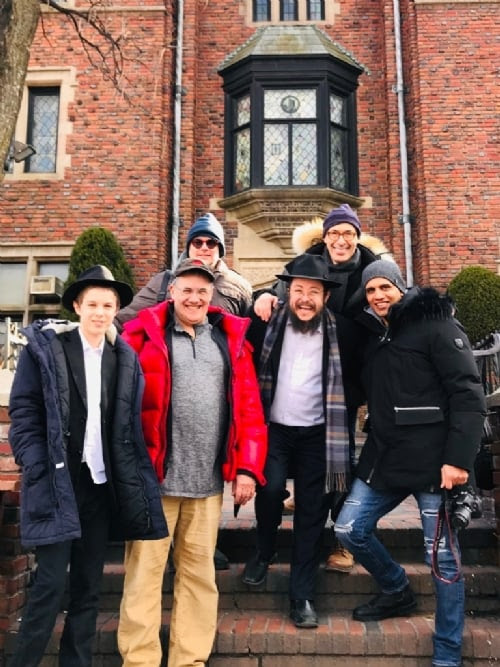 Dear Friends,
We are just back from an A-M-A-Z-I-N-G New York trip (more pics at very bottom of this email) and are already in high festivity gear! It's the happiest time on the Jewish calendar! Purim at Uptown Chabad is a super fun and festive.
It's a special Shabbat in Shul tomorrow. Rebbetzin Yehudis's parents are with our community! Mendel Steiner is back from Yeshiva as well.
Yehudis's mother of "A Taste of Shabbat" fame will be leading the Torah & Tea class for women.
Kiddush is sponsored by the Steiner family in honour of the Yartzeit of Yehudis's grandmother.
It's also the Prize Shabbat Mega Blowout Sale so bring all your kids and all your Torah Dollars to Shul and get some amazing prizes!
Please find everything that you need to know about the holiday below.
With best wishes for a HAPPY PURIM!,
Rabbi Moshe & Yehduis Steiner
| | |
| --- | --- |
| | PURIM SCHEDULE |
Locations vary for different events. Please check location noted next to each event.

Shabbat Day, March 7
9:15am Shabbat morning services begin (45 Canyon, Lower Level - enter through glass doors on south side of building)
10:30am Kids Programs Begin
10:30am Torah & Tea for Women (led by Rebbetztin Esther Winner)
12:00pm Mega Prize Blowout Sale for Kids
12:15pm Kiddush
Saturday Night, March 7
8:00pm Mishloach Manot Swap (45 Canyon, Lower Level - enter through glass doors on south side of building)​​​
Come one come all to help pack Mishloach Manot and then be part of the great communal Mishloach Manot swap!
Sunday, March 8
8:30am Sunday morning service (45 Canyon, Upper Level - enter thorough west entrance with stairs) 
9:30am Bagels, Lox & Cream Cheese breakfast and great Parsha discussion
Monday, March 9 - Fast of Esther & Purim Eve
6:10am Fast begins
7:00am Monday morning service (45 Canyon, Upper Level - enter through west entrance with stairs) 
7:46pm Fast ends
7:45pm Evening service & Megillah Reading (45 Canyon, Lower Level - enter through glass doors on south side of building)
Tuesday, March 10 - Purim Day
7:00am Morning service followed by Megilah Reading (45 Canyon, Upper Level - enter through west entrance with stairs)
----------------------
10:00am Megilah Reading at Prosserman JCC - Room #105
12:00pm Megilah Reading at Prosserman JCC - Room #105
2:00pm Megilah Reading at Prosserman JCC - Room #104
---------------------
5:30pm  Megilah Reading at 12 Heaton Street
6:00pm Purim "Under Construction" Community Feast & Celebration at 12 Heaton Street
| | |
| --- | --- |
| | HOW TO PURIM |
Purim is not just the most fun holiday. It's also the easiest to observe properly! Make a point of covering all the Purim Mitzvot below.
1. Hear the Megillah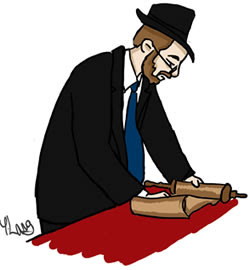 Listen to the public reading twice: once on Monday night, and again on Tuesday.
The Megillah, a.k.a. "The Book of Esther," is the scroll that tells the Purim story. 
When Haman's name is mentioned, you can twirl graggers (noisemakers) or stamp your feet to eradicate his evil name. Tell your kids that Purim is the only time when it's a mitzvah to make noise!
2. Give to the Needy (Matanot LaEvyonim)
Give money or food to at least two needy people during the daylight hours of Tuesday, March 10.
In case you can't find any needy people, Rabbi Steiner will be collecting money for this purpose. At least, place two coins in a charity box earmarked for the poor.
One of Purim's primary themes is Jewish unity. Haman tried to kill us all, we were all in danger together, so we celebrate together too. Hence, on Purim day we place special emphasis on caring for the less fortunate.
On Purim, we give a donation to whoever asks; we don't verify his or her bank balance first.
As with the other mitzvahs of Purim, even small children should fulfill this mitzvah.
3. Send Food Gifts to Friends (Mishloach Manot)
On Purim day, March 10, send a package containing at least two different ready-to-eat food items and/or beverages (e.g., pastry, fruit, beverage) to at least one Jewish acquaintance during the daylight hours of Purim. Men send to men, and women to women.
On Purim we emphasize the importance of friendship and community by sending gifts of food to friends.
It is preferable that the gifts be delivered via a third party. Children, in addition to sending their own gifts of food to their friends, make enthusiastic messengers.
4. Feast!
During the course of Purim day, March 10, gather your family, maybe invite a guest or two, and celebrate with a festive Purim meal. Traditionally, this meal begins before sundown and lasts well into the evening.
The table should be festively bedecked with a nice tablecloth and candles. Wash for bread or  challah, and enjoy a meal featuring meat, wine and plenty of Jewish songs, words of Torah and joyous Purim spirit. Sing, drink, laugh, have fun together.
Special Prayers
On Purim, we include the brief V'al Hanissim section in all the day's prayers, as well as in the day'sGrace after Meals. This prayer describes the Purim story and thanks G‑d for the "miracles, redemptions, mighty deeds, saving acts and wonders" that He wrought for our ancestors on this day many years ago.
In the morning service there is a special Torah reading (Exodus 17:8–16), describing the battle Joshua waged against Amalek—Haman's ancestral nation—almost one thousand years before the Purim events unfolded.
Masquerade!
On Purim, children—and some adventurous adults too—traditionally dress in costumes, an allusion to G‑d's hand in the Purim miracle, which was disguised by natural events. Make sure your children masquerade as good, cheerful characters, such as Mordechai and Esther.
Dress up your kids before taking them to the synagogue for the Megillah reading. Many synagogues have a masquerade party, along with prizes for the children, during or after the Megillah reading.
Pre- and Post-Purim Observances
Torah Reading of Zachor
On the Shabbat before Purim, a special reading is held in the synagogue. We read the Torah section called Zachor ("Remember"), in which we are enjoined to remember the deeds of (the nation of) Amalek (Haman's ancestor), who sought to destroy the Jewish people.
The Fast of Esther
To commemorate the prayer and fasting that the Jewish people held during the Purim story, we fast on the day before Purim. This year we fast on Wednesday, February 28. The fast begins approximately an hour before sunrise, and lasts until nightfall. Click here for exact times.
The "Half Coins" (Machatzit HaShekel)
It is a tradition to give three coins in "half" denominations—e.g., three half-dollar coins—to charity, to commemorate the half-shekel that each Jew contributed as his share in the communal offerings in the time of the HolyTemple. This custom, usually performed in the synagogue, is done on the afternoon of the "Fast of Esther," or before the reading of the Megillah.
Shushan Purim
In certain ancient walled cities—Jerusalem is the primary example—Purim is observed not on the 14th of Adar (the date of its observance everywhere else), but on the 15th of Adar. This is to commemorate that fact that in the ancient walled city of Shushan, where the battles between the Jews and their enemies extended for an additional day, the original Purim celebration was held on the 15th of Adar.
The 15th of Adar is thus called "Shushan Purim," and is a day of joy and celebration also in those places where it is not observed as the actual Purim.
| | |
| --- | --- |
| | MORE PURIM JOY |